Win Your Next High Net Worth Client In 90 Days
Discover The Secret to Connecting with High Net Worth Clients That Already Exist In Your Relational Network!
Create more financial and time freedom right now by building your business through direct referrals that you can unlock from your current relationships.
WealthQuotient has partnered with LRE® to provide an exclusive certification program built on WealthQuotient's proven 5-Step Blueprint that equips you to:
Understand the mindset of High Net Worth (HNW) clients and how to best connect with them.

Identify your best referral sources and the HNW prospects they know so you can ask for specific introductions.

Win new HNW clients by accelerating chemistry and trust.
Stand out from your competition by attending the monthly WealthQuotient group coaching sessions so that you stay on top of luxury market trends and improve your strategies for growing your personal network of HNW prospects.
With our certification, you'll learn how to elevate your sales, take control of your prospecting process, and increase your earning potential.
HNW Introductory Program
Normally:

$1995
Exclusive LRE® Pricing:
Only

$995
Discover The Shortest Path To Your Next Affluent Client
We believe you already have access to all the affluent prospects you'll ever need to build your business, BUT too many potential clients are slipping through the cracks because you don't have the right systems in place.
It doesn't have to be that way.
We'll show you how to identify the 20% of people in your network that will lead to 80% of your new business using a proven 5-step system to ensure your success. Our referral-based blueprint for acquiring new affluent clients will take your pipeline from uncertainty to predictable and repeatable results.
Learn about the successful blueprint that proactively produces referrals to affluent prospects.
Identify your own best referral sources that will produce your next affluent prospects.
Learn the most common mistakes you're probably making and the best approaches for successfully connecting with affluent prospects.
Discover how to tap into your relationships and connect with High Net Worth clients !
Transform your strategy for winning new affluent clients with the HNW Introductory Program. Gain access to insights and processes used by top individuals and global organizations, and immerse yourself in in-depth content and relevant hands-on activities using our WealthQuotient toolkit.
You'll be equipped with everything you need to attract high net worth prospects! You'll gain a deep understanding of our 5-step methodology by experiencing in-depth content, relevant hands-on activities that use our WealthQuotient toolkit. You'll be equipped with everything you need to understand the process that has been consistently proven to accelerate a pipeline of high net worth prospects.
Access the Prospect
Never ask the question 'How do I get in front of a wealthy prospect?' again.
Proactively identify who already exists in your network so that you can build your business through trusted referrals and leverage your existing relationships for success.
Bypass Gatekeepers
Unlock the key to reaching high or ultra high net worth prospects with our expert approach.
We'll help you define your accessible network and teach you how to bypass gatekeepers to make contact with ease.
Control Your Process
Say goodbye to relying on hope or luck with our program.
We'll give you the tools and steps to take control of your sales or fundraising process and grow your business in a more efficient and lucrative manner.
Ready for 10X growth with 1/10 of the effort?
Acquiring new clients can be easy and efficient with referrals, especially for High Net Worth (HNW) clients.
While other courses, coaches and experts talk about the importance of referrals,
we offer a data-driven approach to getting specific introductions

in a repeatable way

.
You'll unlock chemistry and trust to win more HNW clients in less time by using our Five-Step Methodology and toolkit.
Yes, I want to accelerate my business! >>
Stay Ahead of Your Competition
In addition to the course content, we provide members with the tools, training and resources needed to become an industry leader and stay there.
Relational Mapping
Understand your accessible network. Referrals are the #1 way to ensure efficient growth and our mapping represents your lowest hanging fruit and a heatmap for allocation of resources.
Learn the methods of professional researchers to identify the qualified prospects directly connected to your existing relationships.
Bespoke engagements
You don't get a second chance for a first impression. Engaging with the affluent segment of the population requires a personalized approach, so let us help you prepare for your most important interactions.
Through webinars, group sessions and optional individual support, we can help you walk into every meeting you have confident and prepared to accelerate chemistry and trust.
Continued learning
We want you to make it to the top and keep you there. In the ever-evolving world of prospecting with the affluent population, we make sure you stay ahead of the curve.
Through member only webinars and interviews with industry leaders, we give you access to content that is designed to keep you at the top of your industry.
What's Included in the HNW Introductory Program?
This program is a game-changing opportunity for you to elevate your access to new HNW clients. With over a decade of experience working with global luxury brands and sales leaders, we'll show you how to effectively prospect and acquire affluent clients using referrals.
Our program offers exclusive access to expert guidance, resources, and a community of like-minded individuals, empowering you to unlock new levels of success and achieve your financial goals.
UHNW Mindset Shift Bootcamp
Upgrade your mindset by learning how to navigate around the 3 biggest mistakes people make trying to get UHNW referrals:
"Hope Marketing"
Outward-In prospecting
Open-ended referral requests
HNW Introductory Program eCourse
We've distilled down our experience into our easy-to-follow blueprint. The lessons, videos, activities, toolkit and live group coaching calls make applying the 5-step methodology to your business simple.
WealthQuotient Toolkit
Our WealthQuotient Toolkit is specifically designed to support you through implementing the 5-Step Methodology, providing practical tools and resources to accelerate your access to HNW clients.
From identifying your key relationships to crafting data-driven referral requests, our toolkit has everything you need to elevate your business to the next level.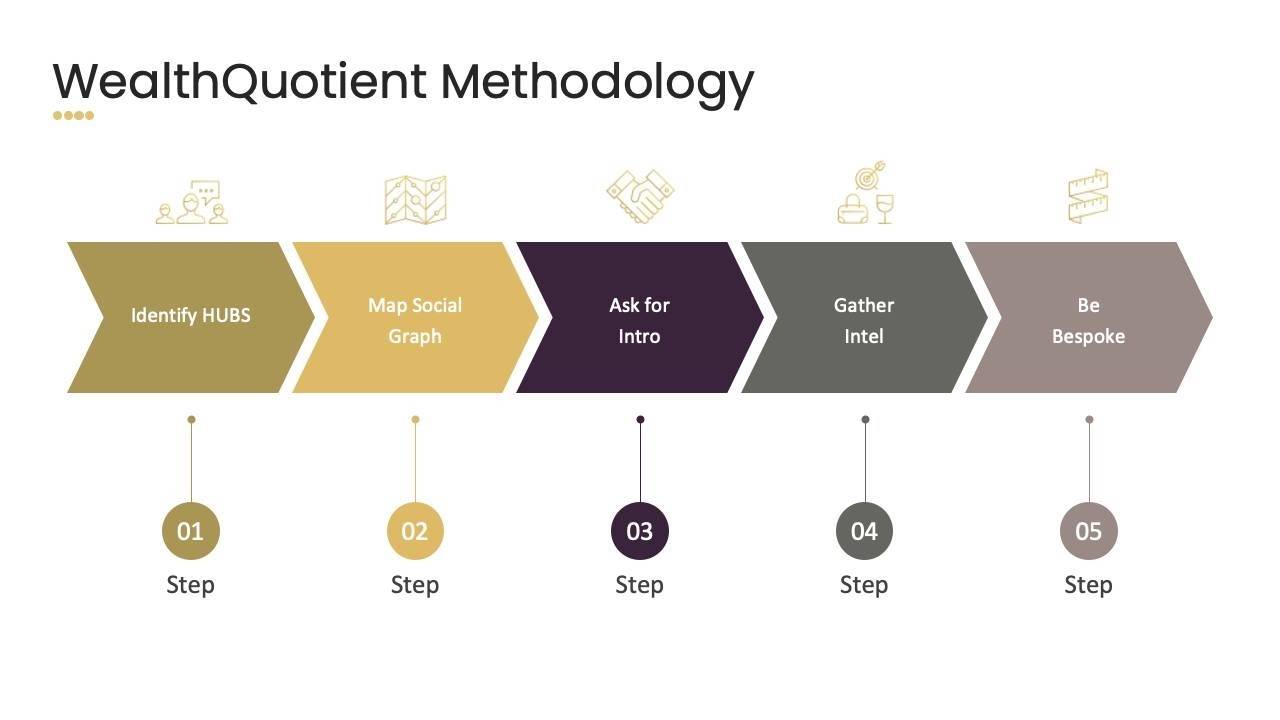 Methodology Overview
You'll get introduced you to the 5-Step WealthQuotient blueprint for accelerating referrals to your next HNW client.
You'll gain a high-level understanding of the WealthQuotient 5-step process that you will use to build a qualified pipeline of ultra-affluent prospects and create custom engagement strategies.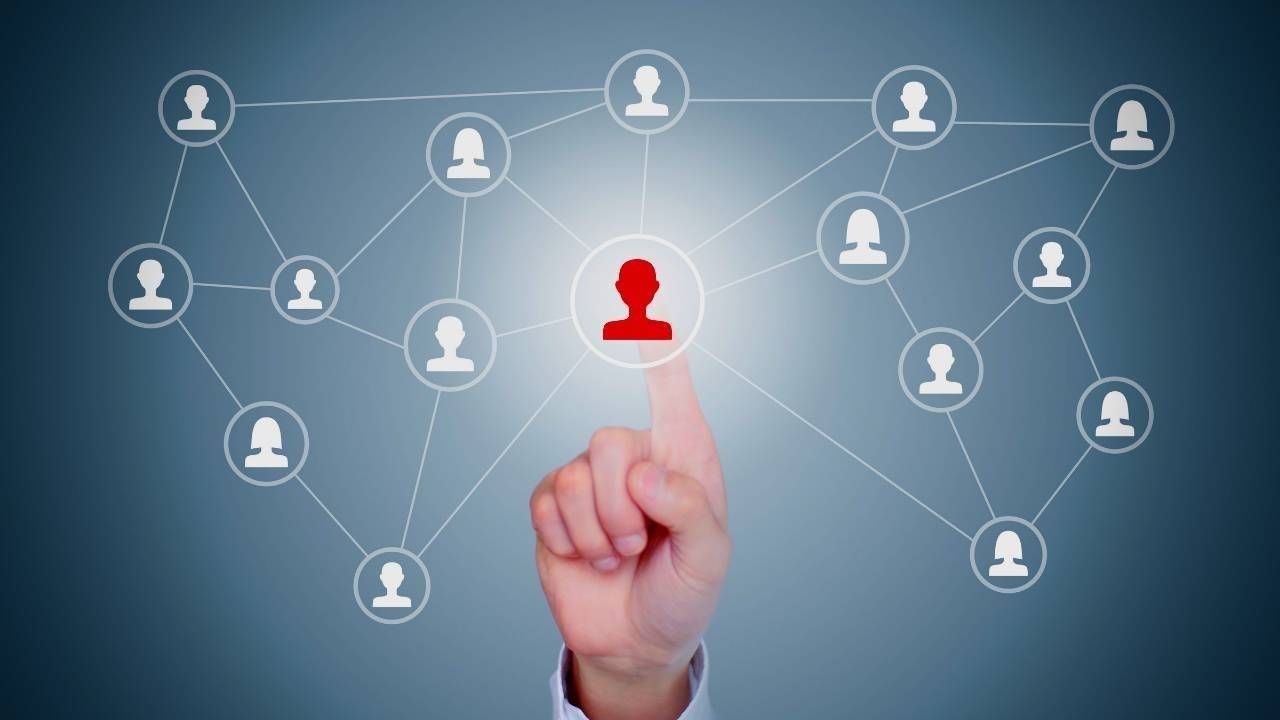 Identify Your Top Referral Sources
Learn how to identify your best referral sources (we call them HUBS) that are the foundation of the WealthQuotient Methodology.
By working through the activities and included worksheets, you will walk away with a core group of HUBS that will generate 80% of your future HNW business.
Identify Your HNW Prospects
Learn the tips, tricks, best practices, and ethical standards used by professional prospect researchers to identify and qualify prospects that are socially connected to a HUB.
You'll be able to confidently identify the HNW prospects that exist within your existing network.
Ask For the Introduction
Walk through the best practices for asking your HUBS for the specific introduction to your target prospects that you identified.
With our guidance, you'll be able to confidently make the ask and secure the introductions to the HNW prospects you need to succeed.
Build A Prospect Profile
Learn the research techniques to compile key information about your prospect's passions, hobbies and interests. This information will help you prepare for meeting with your HNW prospect.
Winning Your Client
Learn how to apply the best engagement strategies for preparing for a meeting or marketing event with your prospect so you can "create coincidences" and accelerate chemistry and trust.
Program Bonuses
Get the following program bonuses when you enroll in our HNW Introductory Program, including access to a wealth of resources and expert guidance to elevate your business to new heights.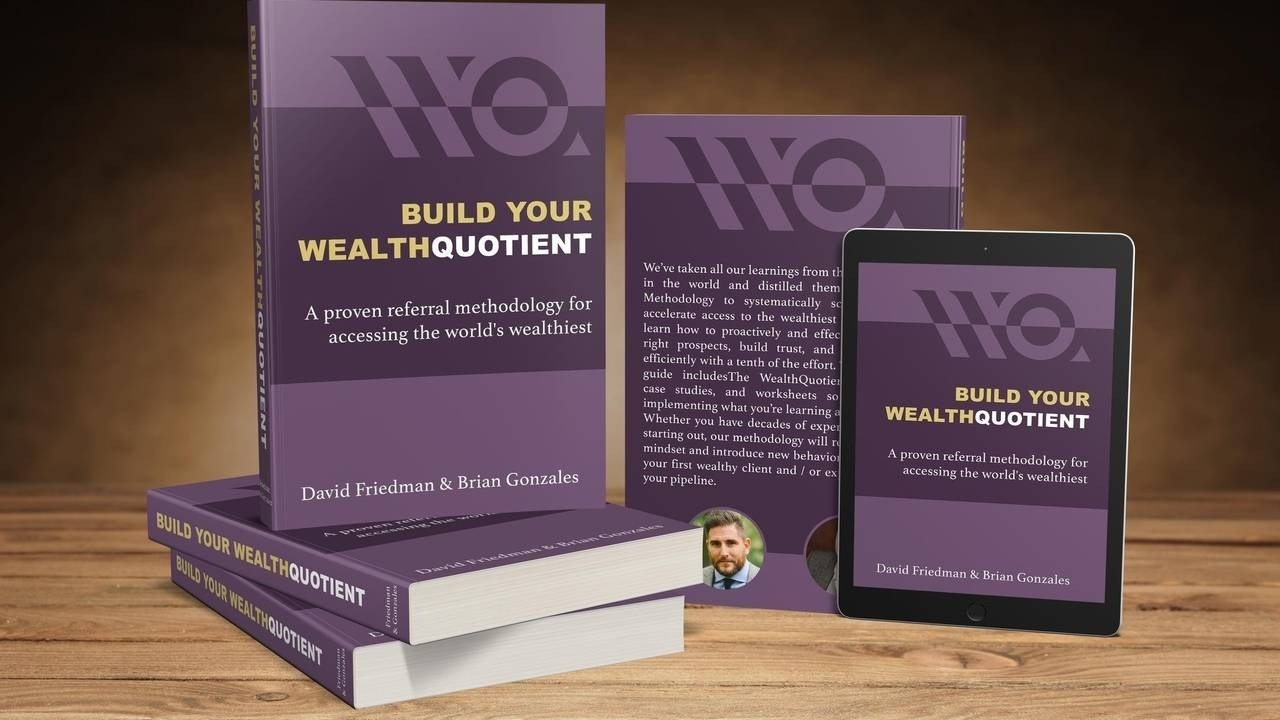 eBook: Build Your WealthQuotient
In our eBook, we provide a step-by-step guide to unlocking the power of your relational network and accelerating your access to high net worth clients. Discover our proven methodologies and practical tools to take your business to the next level and achieve financial success.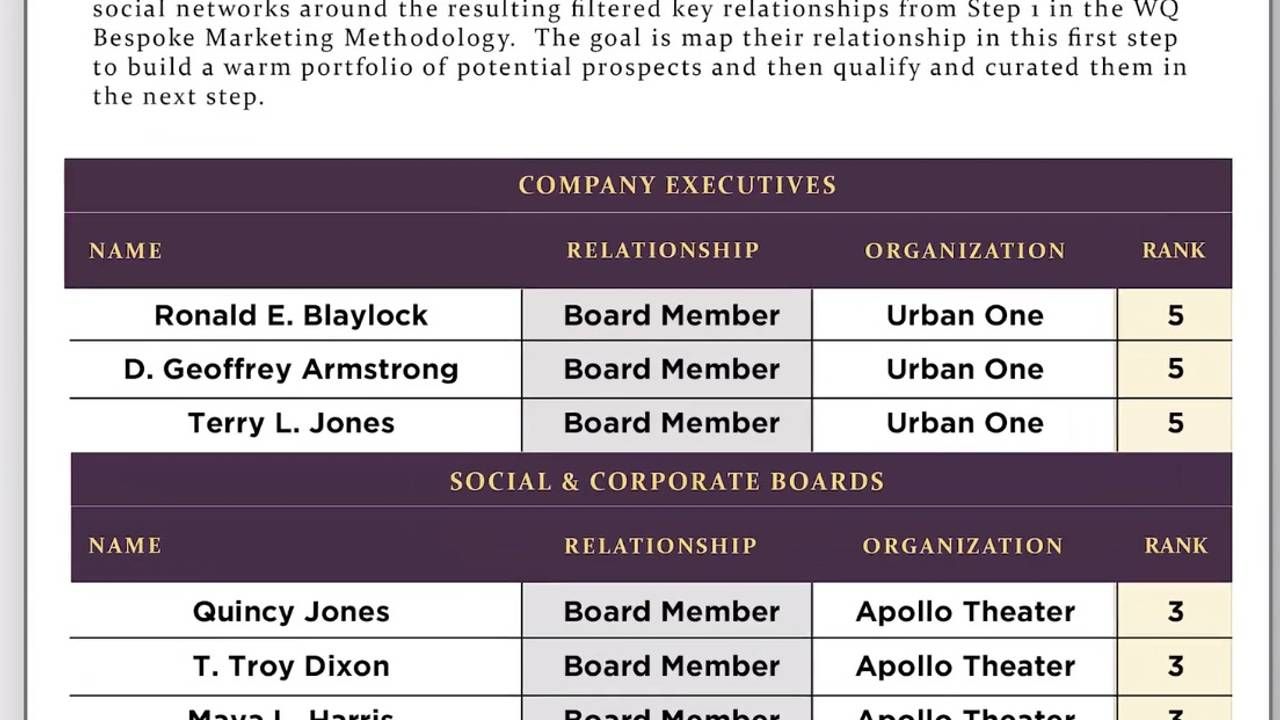 Case Study Library
Our library of case studies showcases the success stories of referral sources and their relational networks, demonstrating the power of a strong referral system. Learn from real-life examples of businesses and individuals who have unlocked the potential of their network and leveraged it for exponential growth. Discover how you can do the same and take your business to the next level.
Webinar Library
Our library of recorded webinars offers a wealth of knowledge on a variety of topics, from a wide array of industry experts, thought leaders, and successful professionals. Expand your horizons, sharpen your skills, and take your career or personal life to the next level.
The WealthQuotient Guarantee
We guarantee that, when you successfully complete all 5 steps of the WealthQuotient methodology, you'll win a new HNW client within 90 days.
Customer Satisfaction is important to us.
Send us an email at [email protected] for any questions, comments and concerns.
JARROD RANDOLPH
LUXURY REAL ESTATE BROKER, OWNER, BESPOKE GLOBAL
"As a real estate broker in a very competitive international marketplace, it's always been key for me to figure out a way for me to set myself apart. I've had a long standing relationship with WealthQuotient, and using their methodology and their processes have helped me elevate my level of business and also create new referrals and help me engage my market on a much higher level than I've been able to before."
THOMAS KEOWN
CO-FOUNDER, MANY HOPES
"Because of the relational mapping WealthQuotient has taken us through, we know who the people are that we want to reach, and we know we can plot a course to them, rather than hoping that they come to us."
BRIAN OTIS
VICE PRESIDENT FOR PRINCIPAL GIFTS, UNIVERSITY OF CONNECTICUT
"One of the benefits of working with WealthQuotient is the ability to expand our pipeline. We need to double the size of our pool of principal gift prospects from 2018-2019, and we have made progress doing so using WealthQuotients methodology... We are raising the most money we have ever raised as an organization. This is the perfect time to work with WealthQuotient because the economic conditions are perfect."
JEFF MENAGED
CEO, CHIEF EXECUTIVE AIR
"WealthQuotient has been extremely helpful for us. In the past when we've looked to create lists of targets for new customer acquisition, we've always done the traditional approach of doing database subscriptions and very unstructured market research. WealthQuotient's methodology gives us a clear roadmap about how to go about researching prospects and identifying them, but done in the context of how are you going to get in front of them. I can't imagine how much business we've left on the table over the last twenty years before taking this approach."
The WealthQuotient Mastermind is taught by the world's leading experts in the high net worth/ultra-affluent data and intelligence market. The co-founders of WealthQuotient are experts in understanding and engaging the high net worth and ultra-affluent market.
Serving as the foundation and springboard for launching WealthQuotient, David was most recently the co-founder and former president of Wealth-X, the world's first and only global wealth data and intelligence platform serving the top global brands in luxury, financial services and non-profit organizations. David has emerged as one of the world's leading experts on the global ultra affluent market and his opinions on a broad range of topics involving the ultra-wealthy have been featured in the Wall Street Journal, New York Times, Financial Times, The Guardian, Investment News, CNBC and The Telegraph and he has had frequent appearances on various news programs including the BBC, FOX, CNN and Bloomberg.
Brian Gonzales
Before launching WealthQuotient, Brian served as the Managing Director and Head of Sales at Wealth-X and worked with the top global brands in luxury, financial services, non-profit and higher education. Brian has emerged as one of the world's leading experts on ultra high net worth engagement as he has helped implement proactive and systematic strategies for organizations across these different industry sectors. He is a trusted and sought after strategist and has spoken at countless conferences on how to better understand and engage this elusive audience.
Revolutionize your business with our systematic approach to getting new High Net Worth (HNW) clients. Our program simplifies the process and equips you with the tools and steps you need to take control and grow your business with confidence.
HNW Introductory Program
Normally:

$1995
Exclusive LRE® Pricing:
Only

$995
What's Included In The HNW Introductory Program?
WealthQuotient has partnered with LRE® to provide an exclusive certification program built on WealthQuotient's proven 5-Step Blueprint. This partnership will provide LRE® members with the tools and skills necessary to close the deal and create a powerful network of referrals.
This program includes:
UHNW Mindset Shift eCourse

The Big 3 Mistakes of engaging with the UHNW
Best Practices For Avoiding Them

HNW Introductory Program eCourse

5-Step Methodology to Win New UHNW Clients
WealthQuotient Toolkit to Guide You

Bonus Items:

eBook: Build Your WealthQuotient
Case Study Library
Webinar Recording Library
---
Ready to add new HNW clients to your portfolio?
Fill in your name and email to begin the checkout process.*
*by clicking proceed to checkout you are giving WealthQuotient permission to contact you by email.
© 2023 WealthQuotient. All Rights Reserved.